When it comes to your oral health, you want the best dentist in town. Horizon Family Dental provides quality dental care for families in the Taber, Lethbridge and Coaldale areas.
The dental team at Horizon is passionate about providing quality dentistry. From regular dental checkups to cosmetic dentistry and implants, we can help you get the best possible results.
Focused on family and cosmetic dentistry, Horizon Family Dental offers numerous services to ensure your smile is brighter than ever! We incorporate all the latest technology, including gas sedation if needed, so no one has to experience an anxious appointment. Horizon Family Dental brings together both general and specialty dental services under one roof.
Why choose Horizon Family Dental?
Flexible financing options
Digital technology
General anesthetic for children
Nitrous oxide sedation
Wheelchair-accessible
Conveniently located on 50th Avenue in Taber, next to Paradise Gardens
Call Horizon Family Dental in Taber and book your next checkup:
Don't procrastinate any longer—book your appointment by calling 403-223-8979 or email [email protected]
Five-star customer reviews for Horizon Family Dental in Taber, Alberta:
"I can't say enough wonderful things about this dental office. They are always so kind and helpful. They have been great working with me on payment options. They have gotten my son and boyfriend in on very short notice a couple times because of emergency teeth issues. I would recommend this dentist a million times over. If you want your dentist to be someone who genuinely cares about you and your needs, this is the office for you. Thank you all so much for all you have done for my family!" ~ Ashley, Google reviewer
"I'm always terrified they're going to start drilling before it's numb but these people are patient. The doc made quick work of it and was really nice and knew what he was doing. The assistant was super nice and really good at explaining the healing process, she was very genuine. Highly recommend, these people are good people." ~ Henry, Google reviewer
"Dr. Cooper has been taking care of my family for 10 years now. I highly recommend him! He is so great with my kids, and truly cares about his patients. His staff is so awesome too, they are so knowledgeable and walk you through any questions you might have. It's a rare gem in this world to find someone who runs a business with such honesty and integrity with a high regard to excellent patient care overall." ~ Jennifer, Google reviewer

Why should I call Horizon Family Dental when I need a dentist in Taber?
Count on the dental team at Horizon Family Dental when you're in need of teeth cleaning, cosmetic dentistry, tooth extraction, laser dentistry, restorative dentistry and more.
Our staff is committed to helping you maintain the health of your teeth—restoring vitality and appearance. They listen to patients thoroughly and provide them with treatment plans based on their needs.
Areas of dentistry:
Pediatric and general family dentistry
Cosmetic dentistry and smile makeovers
Restorative dentistry
Preventive dentistry
Dental and oral examinations
Dental services:
Veneers, bridges and dentures
Filling and root canal treatment
Tooth bonding
Dental cleaning and teeth whitening
CEREC™ and same day crowns
Invisible braces and Invisalign®
Specialty dentistry:
Emergency dental care
Tooth implants and extractions
Oral surgery for both children and adults
Our dentists:
Dr. Jeremy Cooper and Dr. Brody Maclennan will listen to your dental needs and customize a treatment plan that best meets them.

Does Horizon Family Dental handle cosmetic dentistry in Taber?
Our other cosmetic dentistry services include:
Dental veneers: Veneers are very thin shells that are attached to the front part of teeth. They are often made of porcelain or composite resin. Generally, veneers take at least two dental visits to apply. Veneers can help with a variety of issues such as worn, crooked or discoloured teeth. They can also be used to alter the size of teeth or repair unwanted spacing.

CEREC™ (Chairside Economical Restoration of Esthetic Ceramics): CEREC™ is a system that offers the advantage of restoring damaged teeth in one office visit. In a single session, you will leave with a permanent crown, onlay, inlay or veneer. This means no temporaries, less drilling, fewer injections, and perhaps most importantly, less time out of your hectic schedule for dental care.

Dental crowns: A crown is a tooth-like covering placed over an existing tooth that has been specially prepared by the dentist. Crowns help to strengthen and restore function and/or improve the appearance of your natural teeth. We replace existing crowns and fillings with restorations that look and feel like your natural teeth.

Dental bridges: A bridge is a custom-made device anchored to neighboring natural teeth, which replaces one or more missing teeth. When a lost tooth is replaced with bridgework, the teeth on either side of the missing one are prepared as crowns to hold the bridge in place. This treatment restores lost teeth and supports remaining teeth; restores and maintains natural bite; prevents stress on natural teeth; improves your speech, smile and chewing ability; and helps prevent tilting and drifting of neighboring teeth.
If you need dental veneers or other restorative dental work, check out our page on cosmetic dentistry.

Do you also handle dental implants in Taber?
Don't let missing teeth destroy your confidence. With the help of Horizon Family Dental, you can replace missing teeth with artificial implants that blend in perfectly with your natural teeth and give you a new lease on life.
A dental implant consists of a titanium piece, which is fixed into the jawbone in order to replace the natural root.
Once the area has healed, the dentist will put in an abutment, and eventually an artificial tooth will be placed on top of the titanium implant, which anchors it.
For more information, visit our Horizon Family Dental implants page.
What are the opening hours for Horizon Family Dental in Taber, Alberta?
Monday to Thursday: 8 a.m. - 5 p.m.
Friday: 8 a.m. - 2 p.m.
What payment options does Horizon Family Dental in Taber, Alberta offer?
E-transfer, Interac, cash, Visa, MasterCard, American Express
Contact info
Address: 4102B Westview Close, Taber, AB TIG 0C2
Phone: 403-223-8979
Email: [email protected]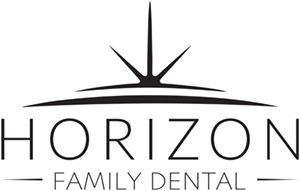 4102B Westview Close Taber T1G0C2