Located in Crescent Valley, Kokanee Powder Coating offers protective powder coating for your industrial equipment, vehicle parts and other metal items. We serve clients throughout the West Kootenay, including Nelson, Castlegar and the Slocan Valley.
Powder coating is superior to regular paint—it uses heat to cure the pigment, resulting in a faster drying and processing time. Regular paint is not as protective and takes up to several days to dry and cure.
We have the experience and training to do an exceptional job. You will be amazed at how powder coating can improve the look and durability of your vehicle or equipment.
Call us to ask about powder coating in the West Kootenay
Need durable, protective powder coating on an item?
Give Kokanee Powder Coating a call at 250-359-2922. We're happy to answer any questions you may have, or supply a free quote on powder coating.
What customers are saying about Kokanee Powder Coating in Crescent Valley
"Awesome service, dropped off four wheels and had them back two days later with a perfect finish." ~ Robbie, Google reviewer
"I have worked with Don McTaggart since Kokanee Powder Coating opened its doors. With Don's help, I have been able to finish all kinds of custom projects—from huge box signs to the tiny parts that make up a locking mechanism. Each time I get Don involved, I know that the final product will look great, it will be ready on time and the coating offers a long-term finish on any of my metal products. It has been great to have Kokanee Powder Coating and Don in my community!" ~ James Karthein, owner of Ridgeline Metal Works, Krestova, B.C.
"Over the last four years, I have been partnering with Don McTaggart at Kokanee Powder Coating in Crescent Valley for many different powder coating needs. Some of these include aged, steel exterior paint matching/application, new steel paint matching/application on small hangers/channeling and clear coating on wrought iron art. Each time he has provided us with excellent workmanship in a timely manner with a kind and professional attitude. Whenever someone mentions they need powder coating, I always mention Don and do so with a strong recommendation." ~ Christa McDiarmid, Shambhala Music Festival
"We love Don McTaggart's work at Kokanee Powder Coating. We've brought him some pretty rough pieces (an old radiator and rusted-out aluminum slides, just to name a few), and every time he brings them back to life looking better than we had hoped for! We highly recommend his work; Don is very easy going and friendly to work with. Top-quality products and jobs are delivered every time—five-star service!" ~ Elon and Marika Melville

What is powder coating?
Powder coating is a type of coating that is applied as a dry powder. It is applied electrostatically and then is cured under heat to form a skin-like layer that is stronger than conventional paint.
Powder coating is the most reliable choice for outdoor rust prevention and an overall quality finish. The finish is baked on and does not use solvents of any kind.
Unlimited colour options are available to produce a beautiful and durable finish.
Powder coating is a three-part process:
Pretreat or prepare the product by sandblasting, wire wheel cleaning and sanding
Powder application
Cure time in the oven for the powder to adhere to the product
Is powder coating environmentally friendly?
Kokanee Powder Coating uses an environmentally friendly process to heat and cure free-flowing powder—no toxins are emitted in the air or on the ground.
A non-toxic powder is used—no fumes are released into the atmosphere. There are no solvents or volatile organic compounds (VOCs) in powder coating—there is no damage to the environment during application. The waste is also not hazardous and can be disposed of in a landfill.

What types of items can be powder coated? Answers from Kootenay Powder Coating in Crescent Valley
Almost anything made of metal—aluminum or steel—can be powder-coated with a tough layer of protection.
Metal parts that can be powder-coated include:
Automotive parts
Motorcycle parts
Snowmobile parts
Industrial parts
Railings and gates
Ornamental pieces of artwork
Signs
Furnishings—indoor and outdoor
Wheels
Services and products offered by Kokanee Powder Coating in Crescent Valley:
Professional powder coating
Free quotes
What payment options does Kokanee Powder Coating in Crescent Valley accept?
Cheque, Cash
Contact information
Address: 4182 Krestova Rd, Crescent Valley, BC V0G 1H0
Phone: 250-359-2922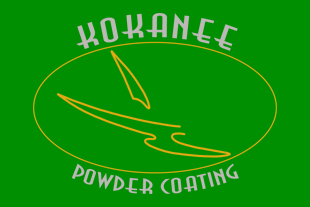 4182 Krestova Rd Crescent Valley V0G1H1