When you need new tires or vehicle repairs, it's critical to choose a mechanic that has the right knowledge base, combined with affordable prices. Mister Tire in Cranbrook checks all the boxes.
We've been in business since 1984—striving to exceed your expectations by employing knowledgeable staff and licensed mechanics to ensure all your vehicle needs are met in a professional, fast and efficient manner.
Our customers come from Kimberley, Creston, Marysville, Invermere and beyond for our competitive prices, top-tier service and exceptional workmanship.
Call for a quote on tires or auto repair in Cranbrook
If you need new tires or some vehicle repairs, give us a call at 250-426-5208 and we can get you an estimate and an appointment ASAP.
Five-star customer reviews for Mister Tire in Cranbrook:
"I bought my first set of dedicated winter tires this year for my Ram 1500, and I'm very happy and surprised at how much better they are than the BFG ko's that I always thought were really good. On advice of the gentleman behind the desk I got Toyo GSi6 tires. (Their) advice and service have always been excellent for me." ~ Mike, Google reviewer
"These guys were fantastic! Got a flat tire on the Saturday of a long weekend, and they were able to get me an exact match tire and had me on the road again in 30 minutes. Very happy and impressed with their service." ~ Nadine, Google reviewer
"Good service and prices aren't through the roof. They will store your spare tires on site in a lockup, a very nice service that's made our family want to stick with them." ~ Henry, Google reviewer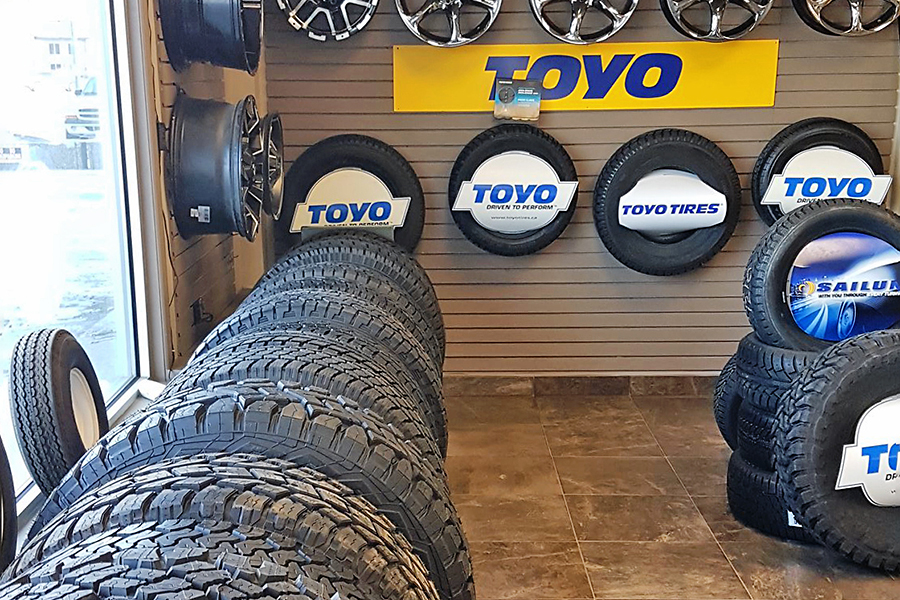 Why is Mister Tire a top place to go for tires in Cranbrook?
For starters, we carry tires for all makes and models of vehicles. At Mister Tire, we pride ourselves on providing both domestic and imported tires of your choice for passenger, truck, skidder and loader vehicles.
We are a certified dealer of Goodyear, Dunlop and Kelly Tires, and a complete Toyo Tire distributor for both the East and West Kootenay regions.
Our tire services include:
Wheel alignment: A wheel alignment will make your tires last longer and your vehicle drive smoother. Just like your shoes can wear, so do your tires, and they can wear unevenly if your wheels are not properly aligned.

Tire Pressure Monitoring System (TPMS) service: A TPMS is an electronic system that monitors the air pressure inside the tire. When the pressure is below standard inflation levels, it affects the performance of your vehicle and the safety of you and your passengers. Mister Tire offers quality, affordable TPMS assistance in Cranbrook, B.C., and surrounding areas.

Tire installation: One of the most important parts of vehicle upkeep is replacing old, worn-out tires. Mister Tire offers quality affordable tire services, including new or seasonal tire installation

Nitrogen inflation: Using nitrogen to fill your tires is advantageous for several reasons. Nitrogen is less likely to seep through the walls of a tire than regular air, resulting in more constant air pressure in your tires—even during temperature changes. More stable air pressure in your tires can help with the fuel efficiency of your vehicle and make your tires last longer (translating to more money in your pocket).
Mister Tire also offers free delivery in the East Kootenay and southern Alberta regions.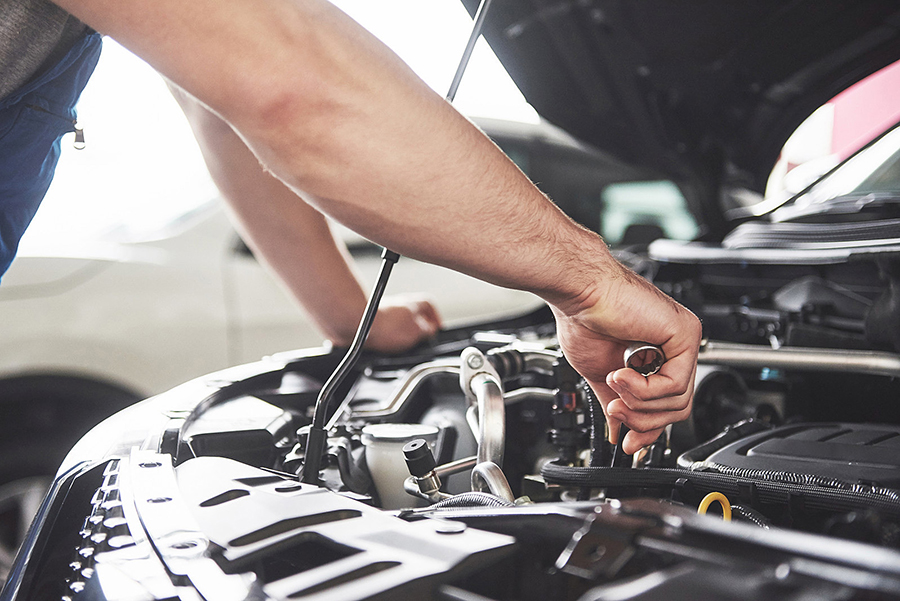 Does Mister Tire handle other auto repairs in Cranbrook?
Mister Tire is more than just a top-notch tire shop.
In addition to our tire services, we are adept at providing other automotive repairs in Cranbrook and area. We employ licensed mechanics who ensure your car and truck repairs are completed thoroughly.
Our auto services include:
24-hour roadside assistance
Brake services
Air filter replacement
Driveline repairs
Battery replacement
Engine repairs
Belt and hose replacement
Electrical system servicing
Fleet management
Fluid checks
Muffler repairs
Preventative maintenance
Oil changes
Steering and suspension services
Radiator repairs
Transmission services
Tune-ups
Windshield wiper blades
At the end of the day, if your vehicle isn't performing at its best, let the experts at Mister Tire in Cranbrook lend a hand.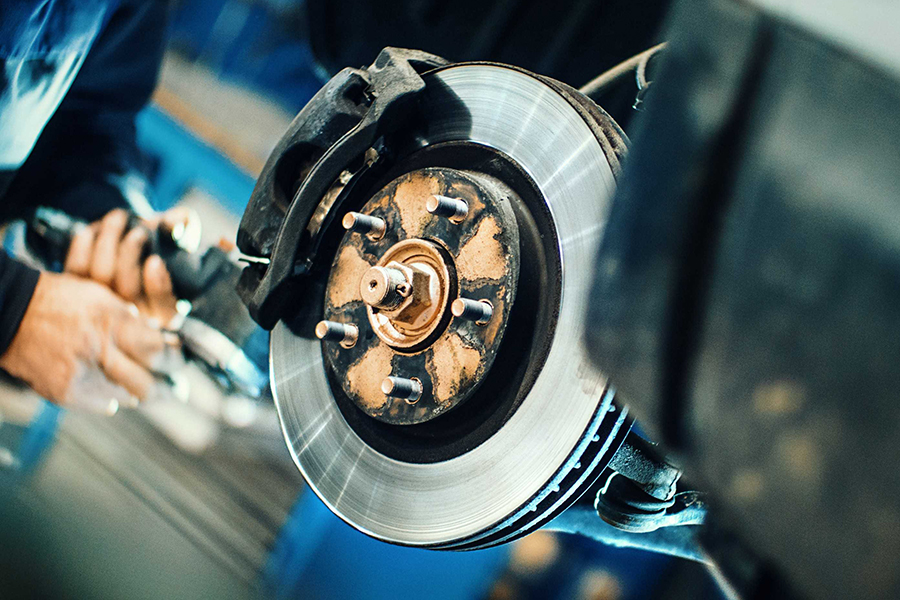 How can I tell if I need to have my brakes serviced?
If you think your brakes may need replacing, there are a few warning signs to look for:
The car is pulling to one side when you hit the brakes
You can see that less than ¼ inch of brake pad is left
The brakes make high-pitched squealing sounds (indicating new brake pads may be needed)
The brakes make growling or grinding sounds (this usually means there is more significant damage and the brakes need complete replacement)
Reduced braking response or the feeling of the pedal sinking into the floor (check for a puddle of brake fluid under the car)
Vibration or pulsation in the brake pedal
If you notice any of the above, give Mister Tire a call and we will be happy to help.
What are the opening hours for Mister Tire in Cranbrook?
Monday to Friday: 8 a.m. - 5:30 p.m.
Saturday: 8 a.m. - 5 p.m.
Sunday: Closed
What was Mister Tire in Cranbrook's first year in business?
1984
Who is the owner of Mister Tire in Cranbrook?
Glen Lynn
What payment options does Mister Tire in Cranbrook accept?
Interac, Visa, MasterCard, American Express, Cash
Contact info
Address: 820 Cranbrook St N Cranbrook V1C3R9
Phone: 250-426-5208

820 Cranbrook St N Cranbrook V1C3R9