If you've been through a flood or a fire, you know how devastating the effects can be. Damage can be extensive and costly, but at Paulson Fire & Flood in Cranbrook we can make the whole process less of an ordeal.
Our head office is in Cranbrook; however, we have satellite offices (open by appointment only) in Sparwood, Invermere and Creston.
If your home or office building has suffered damage of any kind, do not hesitate—give Paulson Fire & Flood a call. Our professional team will arrive in a timely manner ready to assist and answer all your questions.
Call us for an estimate on water or fire damage restoration in Cranbrook
If you need fire or flood damage restoration in Cranbrook, call us at 250-426-5057 for a free estimate.
Five-star customer reviews for Paulson Fire & Flood in Cranbrook:
"Highly professional and experienced! They went above and beyond to make my flooded basement into a beautiful living space. They addressed all my concerns promptly, and made a very distressing situation smooth, and simple. Top notch attention to detail! Top notch customer service!" ~ Jordan, Google reviewer

If your home or business has had a fire, turn to Paulson Fire & Flood for fire damage restoration in Cranbrook
Fire and smoke can have devastating impacts on your home or business. Even in cases when the fire is relatively small, smoke and water can cause significant harm. It is important that in such cases you seek professional help. Paulson Fire & Flood specializes in restoring property that has been damaged by smoke and fire. Our team of certified technicians work with you to help restore your property.
We have over 40 years of experience in the industry, so we understand the urgency and make sure that our technicians are at your door as soon as possible. Our staff members are trained to work quickly to limit the damage and expertly treat all the affected items before any of the damage becomes permanent. We use advanced chemical cleaners to remove the etching and tarnishing from various surfaces, providing full disaster clean-up and fire restorations using equipment such as:
Air scrubbers
Shop air movers
Smoke wash walls
Commercial dehumidifiers
Contact us now for any queries and we will be happy to help you!

Why should I call Paulson Fire & Flood when I need a general contractor in Cranbrook?
Hiring a general contractor is essential if you're undergoing extensive construction, remediation or renovations. Whether you are looking for a technician for a disaster clean-up or a restoration from fire and water damages, we have the skills to renovate your home, shop or business.
Whenever an owner recommends our company, they always mention our excellent crew. What's highlighted the most is our journeyman carpenters who can facilitate framing or insulation and oversee drywallers, painters, finishing carpenters and other key professionals. Our technicians are certified, licensed and experienced enough to handle any kind of restoration project.
Our clients' satisfaction is paramount. We work closely with you and strive to make any loss a seamless process from start to finish. Contact us to schedule an appointment now.

What can be done about water damage from flooding in Cranbrook?
No one plans for water damage in their house or office. But when it happens, you need professionals to dry out and restore everything as quickly as possible. Paulson Fire & Flood provides prompt water damage restoration services in Cranbrook and throughout the East Kootenay region, helping clients minimize the expenses caused by flooding.
Our water damage specialists are certified by the Institute of Inspection Cleaning and Restoration Certification (IICRC) and are experienced in handling water damage mitigation, mould, dehumidification systems, corrosion control and more.
It is advisable to call the water damage restoration team as soon as you identify the problem because the longer you wait, the more damage it will cause. We use the following equipment:
Dehumidifiers
Drying fans
Air scrubbers
Cavity dryers
Professional axial fans
Space fans
Suction truck
Give us a call— we can help you reduce the cost, damage and stress caused by flooding in your building.
What are the opening hours for Paulson Fire & Flood in Cranbrook?
Monday to Friday: 8 a.m. - 5 p.m.
Emergency services 24/7
What payment options does Paulson Fire & Flood in Cranbrook accept?
Interac, Visa, MasterCard, Cheque, Cash
Contact info
Address: 1201 Industrial Road 3, Cranbrook, BC V1C 5A5
Phone: 250-426-5057
Email: [email protected]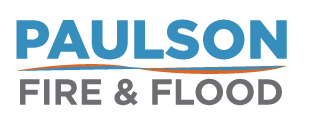 1201 Industrial Rd 3 Cranbrook V1C5A5