If you are located in the Lethbridge/Taber area and in need of dental implants, Horizon Family Dental in Taber is the obvious choice. Their dental team excels at every aspect of dentistry, from regular checkups to advanced restorative or cosmetic procedures.
The staff at Horizon can help you improve the look of your smile and your overall quality of life by replacing missing teeth with natural-looking, durable implants.
Why choose Horizon Family Dental?
Flexible financing options
Digital technology
General anesthetic for children
Nitrous oxide sedation
Wheelchair-accessible
Conveniently located on 50th Avenue in Taber, next to Paradise Gardens
Call Horizon Family Dental in Taber, Alberta, and book a consultation:
Give us a call at 403-223-8979 or email [email protected] and let us know how we can assist you with dental implants or other dental care in Taber.
Five-star customer reviews for Horizon Family Dental in Taber, Alberta:
"Went in for an emergency extraction, the staff were helpful and nice. The procedure was quick and all the details for aftercare were explained clearly. 10/10 would recommend. Will be following up for future dental work." ~ Stuart, Google reviewer
"With short notice, Horizon was still able to fit me in and fix me up. Great personable people and overall a great experience. This is coming from someone who hates visiting the dentist. Thanks Horizon." ~ Jesse, Google reviewer
"We recently switched over to Horizon Family Dental and are so happy we did. All five family members are happy with their services, and the care and detail that everyone puts into dental cleanings and checkups. The reception is always polite, as well. Horizon Family Dental is our recommendation in Taber." ~ Pam, Google reviewer

What are dental implants, and why are they needed?
Don't let missing teeth destroy your confidence. With the help of Horizon Family Dental, you can replace missing teeth with artificial implants that blend in perfectly with your natural teeth and give you a new lease on life.
A dental implant consists of a titanium piece, which is fixed into the jawbone in order to replace the natural root.
Once the area has healed, the dentist will put in an abutment, and eventually an artificial tooth will be placed on top of the titanium implant, which anchors it.
If you are replacing multiple teeth, a fixed bridge may be needed. Horizon's dental team is skilled in doing high-quality, comfortable bridgework.
While the process will require a few visits to get everything just right, by the end you'll be smiling in every photo.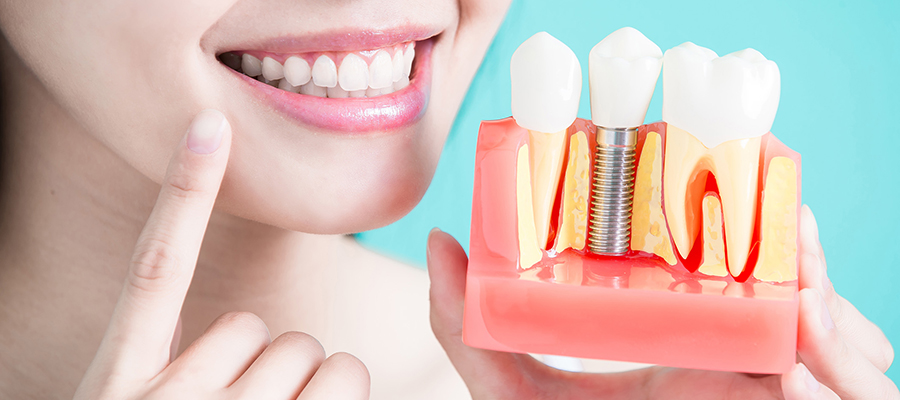 How do I care for my dental implants?
Dental implants need to be kept clean just like natural teeth. You still need to brush and floss as usual to maintain good oral health.
You may also need to have follow-up dental visits the year after your implants were placed (and on the usual regular basis for cleaning and check-ups).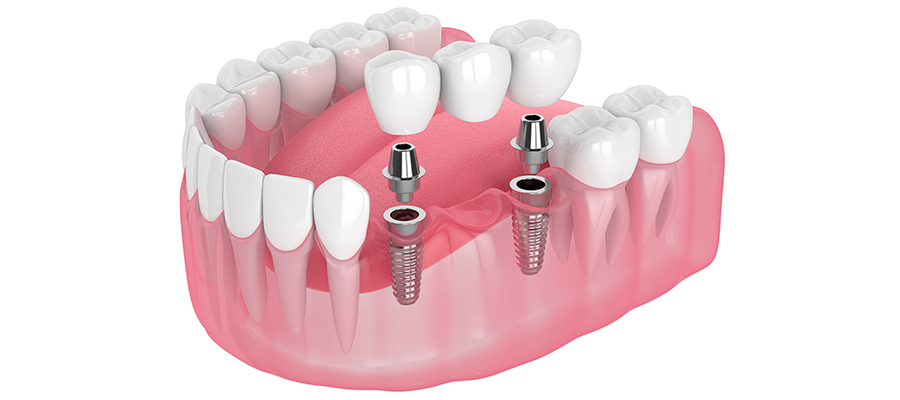 What other dental services are offered at Horizon Family Dental in Taber?
We offer more than just dental implants—we are a full-service, family dental office.
Areas of dentistry:
Pediatric and general family dentistry
Cosmetic dentistry and smile makeovers
Restorative dentistry
Preventive dentistry
Dental and oral examinations
Dental services:
Veneers, bridges and dentures
Filling and root canal treatment
Tooth bonding
Dental cleaning and teeth whitening
CEREC™ and same day crowns
Invisible braces and Invisalign®
Specialty dentistry:
Emergency dental care
Tooth implants and extractions
Oral surgery for both children and adults
Our dentists:
Dr. Jeremy Cooper and Dr. Brody Maclennan will listen to your dental needs and customize a treatment plan that best meets them.
For more information on our general dental services, visit our main Horizon Family Dental page.
If you need dental veneers or other restorative dental work, check out our page on cosmetic dentistry.
What are the opening hours for Horizon Family Dental in Taber, Alberta?
Monday to Thursday: 8 a.m. - 5 p.m.
Friday: 8 a.m. - 2 p.m.
What payment options does Horizon Family Dental offer in Taber, Alberta?
E-transfer, Interac, cash, Visa, MasterCard, American Express
Contact info
Address: 4102B Westview Close, Taber, AB TIG 0C2
Phone: 403-223-8979
Email: [email protected]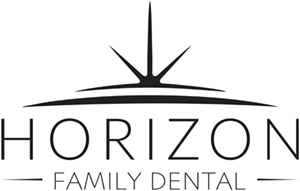 4102B Westview Close Taber T1G0C2