As a locally owned Crescent Valley company, Playmor Power Products has your back when it comes time to take on the trails. We sell and service a number of different styles of recreational machines, including ATVs, snowmobiles, motorcycles and dirt bikes.
We're particularly proud of our side-by-side off-road vehicles, and we have the supplies, equipment and expertise to repair them, if needed. We regularly serve customers from Castlegar, Nelson, Trail, South Slocan and elsewhere throughout the West and East Kootenays.
Contact us to ask about side-by-sides in Crescent Valley
Give us a call at 866-969-7111 to find out more about our side-by-side machines.
Five-star customer reviews for Playmor Power Products:
"Fantastic service. Really good price. Went above and beyond. Cannot say enough good about these folks, sales and service." ~ Clay, Google reviewer
"Knowledgeable and helpful staff. Decent selection of parts and if they don't have something, they are happy to order it for you. Their power product inventory is always changing so there's always something new to look at when you pop by." ~ Mo, Google reviewer
"Service is top tier. All brands of small engine, from water to forestry, have been kept in top working order here. All the staff are super knowledgeable." ~ Kelly, Google reviewer
This is just a sampling; check out the rest of our stellar Google reviews.

What is a side-by-side off-road vehicle?
As the name implies, a side-by-side machine is an off-road vehicle that allows the driver and passenger to sit beside each other, similar to a car.
Side-by-sides also have a gear shift, pedals and steering wheel like a conventional vehicle, and are usually bigger than a standard ATV.
What are side-by-sides used for?
Side-by-sides are generally used for either utility or recreation; however, some models are suited to both. They can be handy for accomplishing farm or yard work, or they can take you on exhilarating backcountry rides.
Side-by-side machines versus ATVs: Which should I buy?
Your choice of machine depends on a few different factors:
Price: ATVs tend to be less expensive than side-by-sides.

Configuration and comfort: Some riders, particularly those new to the sport, prefer the configuration of a side-by-side because it resembles a regular vehicle. ATVs require you to brake with your hands and straddle the seat, giving an entirely different feel.

Trails in your area: If you plan to ride wider trails, a side-by-side will be fine, but you might need the slimmer body of an ATV to take on more narrow routes.

Pulling power needed: If you require a machine large and strong enough to do a lot of towing, a side-by-side is the better option.
Buy an ATV, snowmobile or motorcycle in Crescent Valley
We also carry and repair other power sport machines. Check out our snowmobile, ATV and motorcycle page for more information.
What are the opening hours for Playmor Power Products in Crescent Valley, B.C.?
Monday to Saturday: 8 a.m. - 5 p.m.
Sunday: Closed
Who owns Playmor Power Products in Crescent Valley, B.C.?
Jim Bradbury and Bob Gretchen
What payment options are accepted by Playmor Power Products in Crescent Valley, B.C.?
Interac, Visa, MasterCard, Cash
Contact info
Address: 1045 Playmor Rd, Crescent Valley, BC V0G 1H0
Phone: 866-969-7111

1045 Playmor Rd South Slocan V0G1H0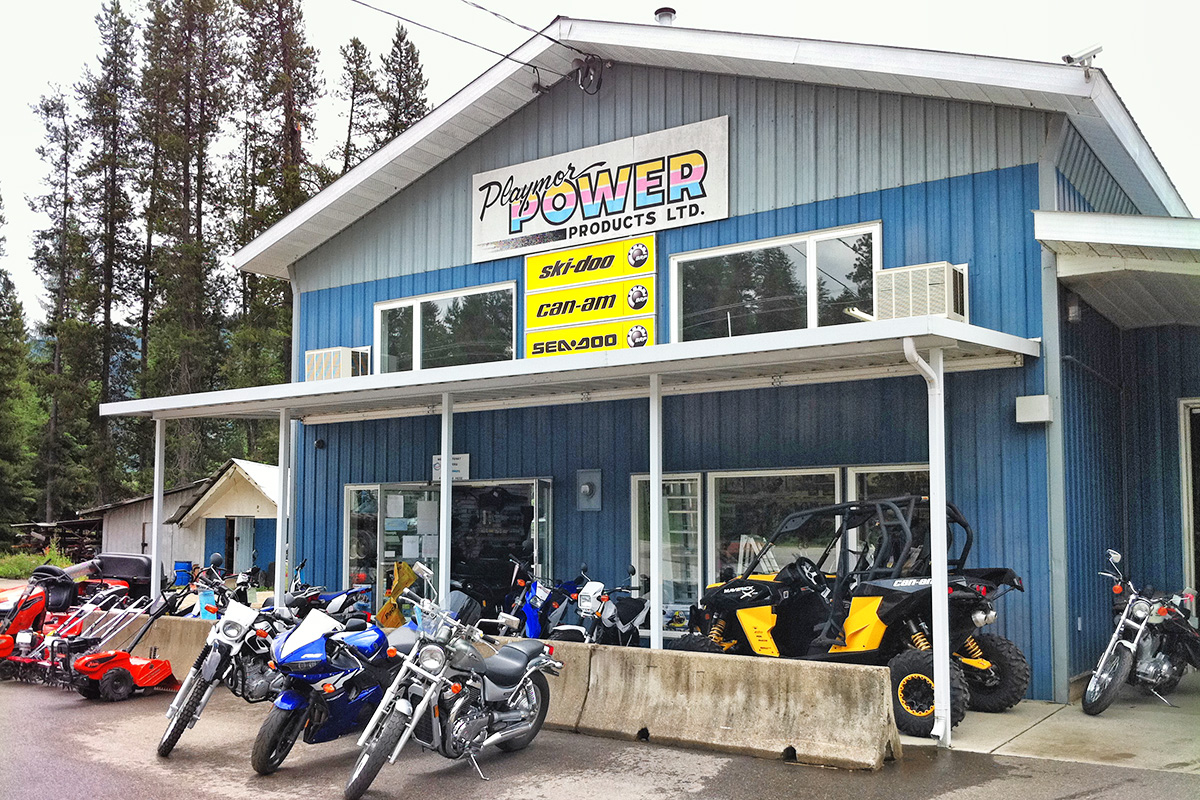 Playmor Power Products Ltd. is located at 1045 Playmor Rd., Crescent Valley, BC