At Playmor Power Products, we take outdoor recreation seriously. That means bringing in machines for every season, made by the brands our customers trust. It also means servicing what we sell!
Our business is a locally-owned and -operated company offering ATVs, motorcycles and snowmobiles in Crescent Valley, British Columbia. Sports enthusiasts love to try riding in new locations, and we often have customers travelling from all over the West Kootenay region, including Nelson, Slocan, Castlegar and Trail. In fact, many customers refuse to buy or bring their machines to anyone but us. That's because they can't find prices like ours anywhere else, and our selection of machines is like no other dealership in the Kootenays.
We warmly invite you to enjoy our West Kootenay trails, sample the legendary terrain and then swing by our shop and check out our inventory.
Whether you're waist deep in snow or just itching to get to the track, we're here to help you get where you need to go. Ready to rip it up on the lake during the hot summer months? Playmor Power Products offers an extensive selection of Sea-Doos as well.
Brand and suppliers
Ski-Doo, Can-Am, Sea-Doo, Yamaha, Ariens, Jonsered, Echo, Karavan
Contact our West Kootenay dealership to ask about our motorcycles, ATVs and snowmobiles in Crescent Valley
Give us a call at 866-969-7111 to find out more about our powersports inventory and services.
Five-star customer reviews for Playmor Power Products in Crescent Valley:
"So happy with all the service in the past, new machine this year. I expect they can not give me anything more than the best service they have always provided. I love the Playmor team and consider them to be my friends. Double the 5 stars, they are worth more!" ~ Shane, Google reviewer
"Love Playmor Power, Bob is always so accommodating and he really cares that you are safe when riding!" ~ Krystal, Google reviewer
"I brought my bike Into Playmor and they had my bike done so fast! But that's not the only reason I am extremely satisfied! Jim said my bike would be done on Saturday but then I soon realized they were closed on Saturday. I needed my motorcycle for work…so I called up Jim and he voluntarily came to work on his day off and grabbed me my freshly repaired bike out of the shop for me! I am a extremely grateful for everything Playmor has done for me!! 5 stars!" ~ Marick, Google reviewer
This is just a sampling; check out the rest of our stellar Google reviews.

Buy a new or used snowmobile in Crescent Valley
We are passionate about power sports at Playmor Power Products in Crescent Valley. Our inventory is full of sleds that will make your winter adventures unforgettable.
Our selection of snowmobiles for sale includes:
Crossover machines
Mountain sleds
Recreation-utility machines
Touring and touring-utility sleds
Trail sleds
Luxury performance snowmobiles
In addition to new and used sleds, we also carry snowmobile parts, supplies and apparel.
What should customers keep in mind when buying a snowmobile, bike or ATV in Crescent Valley?
Here are a few handy tips to keep in mind:
Always inspect a used machine to ensure it is clean—that includes the engine compartment. Cleanliness indicates that it has been well-maintained.

Whenever possible, buy something with a warranty. You want to be able to ride any type of terrain without fear of expensive repairs.

Save up and get the machine you really want. Settling for a lower-end product often ends in disappointment and a harder learning curve for new sledders. Spend the extra money to invest in features that are important to your personal riding experience and preferences.

Do your research ahead of time, and never be afraid to ask lots of questions.
Interested in buying a new powersports machine? Visit Playmor Power Products in Crescent Valley. We regularly serve West Kootenay customers, including many people from Nelson, Castlegar and Trail. Our staff is on a mission to match you up with the ideal sled, ATV or motorcycle to meet your specific needs.

Ride the West Kootenay terrain on a new or used ATV
Want to go ATVing in the West Kootenay region? We have new and used ATVs available to suit any price point and comfort level. Can-Am and Yamaha are two of our top brands, featuring some excellent all-terrain vehicles, including:
DS (Can-Am)
Renegade (Can-Am)
Outlander (Can-Am)
Yamaha sport
Yamaha utility
We bring in new and used machines regularly, so be sure to call or visit us to see what we currently have in stock. You can also shop from our online inventory and find your perfect ATV in Crescent Valley.

The West Kootenay roads await: Buy a motorcycle or dirt bike and explore
Get a new or used motorcycle at Playmor Power Products, and take on the open road in style. We also have competition and recreational dirt bikes available at our Crescent Valley location, as well as cruisers, scooters and more.
We sell and service a number of Yamaha and other brand-name bikes, including:
Competition dirt bikes
Recreation dirt bikes
Scooters
Cruiser/V-Twin bikes
Street bikes

What is a side-by-side off-road vehicle?
As the name implies, a side-by-side machine is an off-road vehicle that allows the driver and passenger to sit beside each other, similar to sitting in a car.
Side-by-sides also have a gear shift, pedals and steering wheel like a conventional vehicle and are usually bigger than a standard ATV.
Side-by-sides are generally used for either utility or recreation; however, some models are suited to both. They can be handy for accomplishing farm or yard work, or they can take you on exhilarating backcountry rides.
Check out this page to learn more about our side-by-side machines.
Side-by-side machines versus ATVs: Which should I buy?
Your choice of machine depends on a few different factors:
Price: ATVs tend to be less expensive than side-by-sides.

Configuration and comfort: Some riders, particularly those new to the sport, prefer the configuration of a side-by-side because it resembles a regular vehicle. ATVs require you to brake with your hands and straddle the seat, giving an entirely different feel.

Trails in your area: If you plan to ride wider trails, a side-by-side will be fine, but you might need the slimmer body of an ATV to take on more narrow routes.

Pulling power needed: If you require a machine large and strong enough to do a lot of towing, a side-by-side is the better option.
What are the opening hours for Playmor Power Products in Crescent Valley, B.C.?
Monday to Saturday: 8 a.m. - 5 p.m.
Sunday: Closed
Who owns Playmor Power Products in Crescent Valley, B.C.?
Jim Bradbury and Bob Gretchen
What payment options are accepted by Playmor Power Products in Crescent Valley, B.C.?
Interac, Visa, MasterCard, Cash
Contact info
Address: 1045 Playmor Rd, Crescent Valley, BC V0G 1H0
Phone: 866-969-7111

1045 Playmor Rd Crescent Valley V0G1H0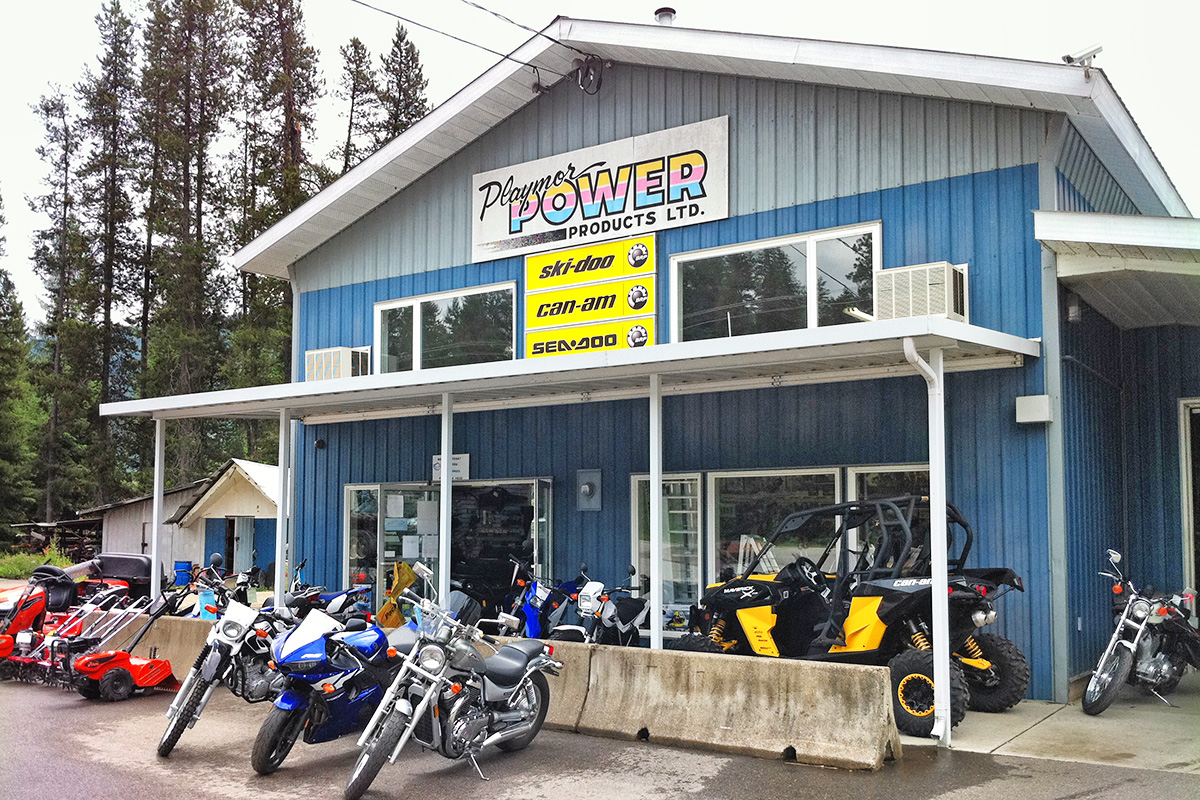 Playmor Power Products Ltd. is located at 1045 Playmor Rd., Crescent Valley, BC